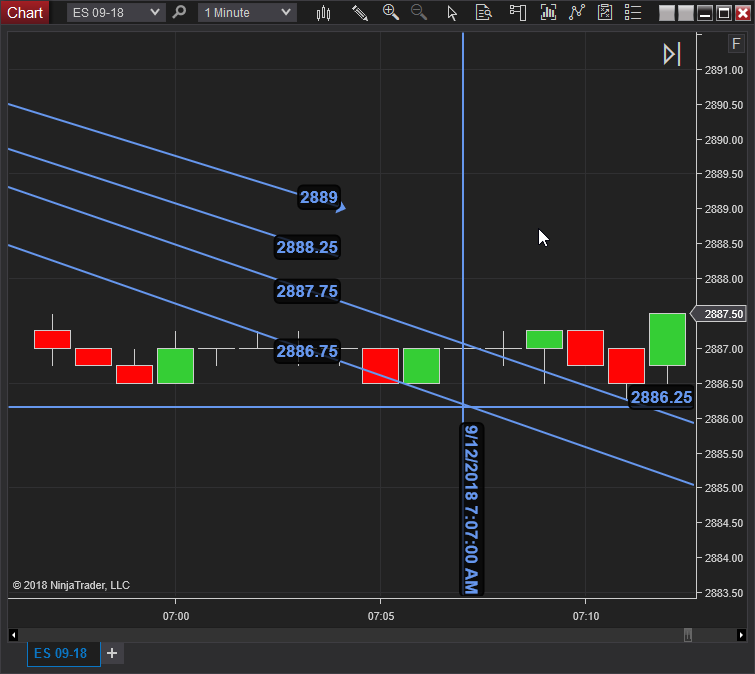 This is an expansion of the the NinjaTrader Lines Drawing Tool(s) that adds text boxes to each line that will show prices associated with the endpoint or where the line crosses the price scale. Vertical lines will show time stamps. Your own messages can be added to each text box. New settings can be set by saving a Default template for each Drawing Tool.
9/29/2018: Project start/end points for extended lines so text is always visible, using anchor price where possible instead of calculating from ChartScale
9/23/2018: Improved TextBox behavior when anchors are out of bounds, Refactored code
9/20/2018: Fixed an issue where H Lines would not update labels if modified from Draw Objects window, Changed Ray and Extended Line Text Boxes to align with ChartPanel boundaries, Inner Opacity now customizable
9/13/2018: Code is now a lot cleaner and inherits from NT Line Drawing Tool, Text boxes are now offset from end points, and font is now customizable
10/08/2019: Fixed an issue with Multi Panel rendering, Added NinjaScript overloads. (Please use a template for customizing Label properties when using NS overloads.)
| | |
| --- | --- |
| Created By | NinjaTrader_Jim |
| NinjaTrader Version | 8 |
| File Size | 5.2 KB |
| Create Date | 09/12/2018 |
| # of Downloads | 889 |
Importing to NinjaTrader 8 is Easy!
To import your 3rd party app or add-on to NinjaTrader, simply follow these 3 steps:
Download the app or add-on file to your desktop
From the NinjaTrader Control Center window, select the menu Tools > Import > NinjaScript Add-On…
Select the downloaded file from your desktop