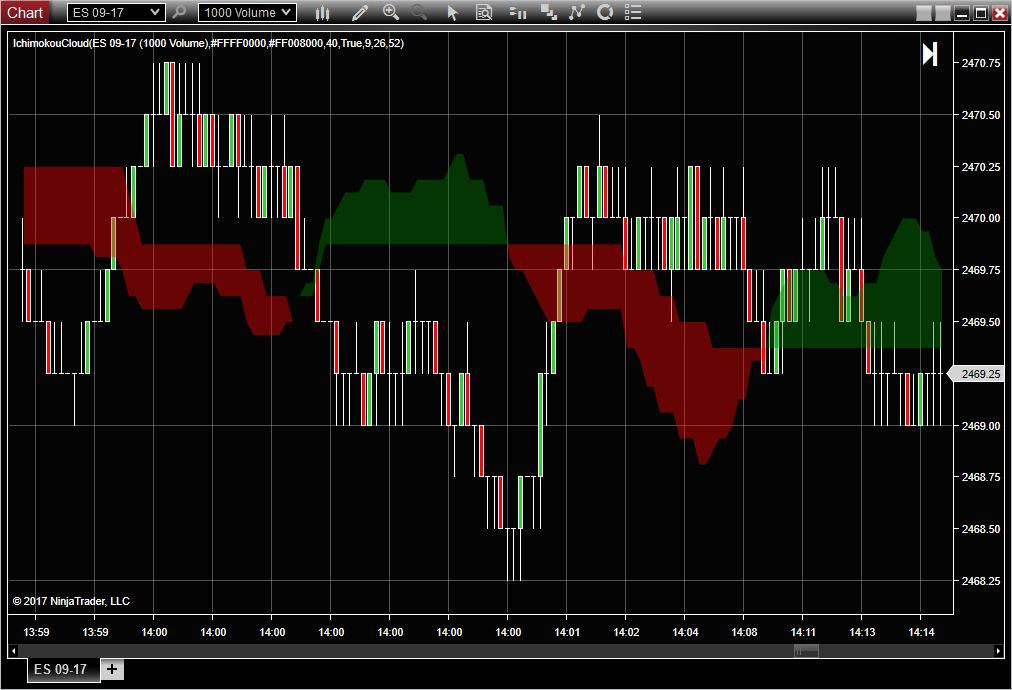 This indicator was ported from the Ichimoku Cloud indicator for NinjaTrader 7. The Cloud's points are constructed identically to the NinjaTrader 7 indicator, however the points are then used to construct new SharpDX PathGeometry Figures.
8/13/2018: Rewrote the indicator's custom rendering so it is simplified and works on multiple ChartPanels
11/10/2017: Corrected OnRender() errors when switching tabs with Displacement on.
11/07/2017: This indicator has been updated to include a Displacement property. Set Displacement to 26 to align the cloud with the last completed bar.
10/03/2019: Fixed rendering error with Equidistant Bar Spacing disabled.
Original Description:
Recode of the IchiCloud indicator. This version plots the cloud, shifted forward, as well as the Tenkan, Kijun, and Chikou lines. There is an option to display the cloud only, or cloud with the lines.
Looking for an Ichimoku Cloud Indicator for NinjaTrader 7? Click here.
| | |
| --- | --- |
| Created By | NinjaTrader_Jim |
| NinjaTrader Version | 8 |
| File Size | 38.0 KB |
| Create Date | 02/11/2019 |
| # of Downloads | 2176 |
Importing to NinjaTrader 8 is Easy!
To import your 3rd party app or add-on to NinjaTrader, simply follow these 3 steps:
Download the app or add-on file to your desktop
From the NinjaTrader Control Center window, select the menu Tools > Import > NinjaScript Add-On…
Select the downloaded file from your desktop