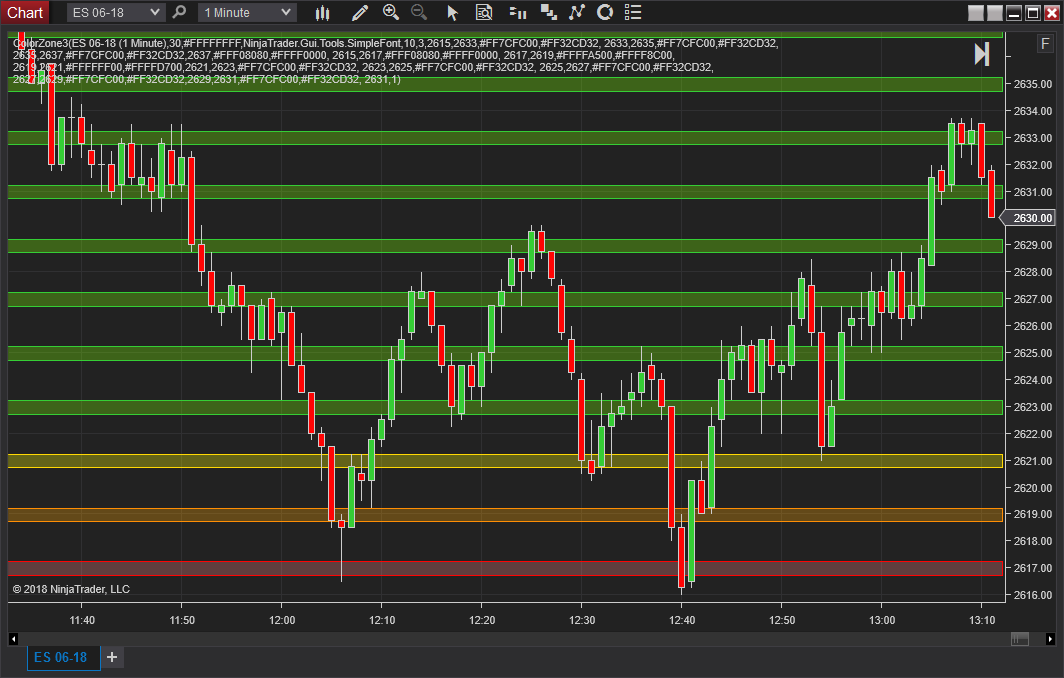 This is a port of the NinjaTrader7 ColorZone3 indicator by photog53.
Update 4/28/2018: Fixed issue with ChartTemplates and converted regions to use plots.
Update 03/19/2011 (allow text entry on zones...also allows entry of negative zone values)
Creates up to 12 colored zones on a chart.
- Requires only 1 price entry per zone...
the indicator then calculates a 'region' 1-tick on either side
of the price entered, and draws a colored zone.
- Zone size (in ticks) is configurable. Default size is '1 tick' on
either side of price, but this can be modified from the indicator.
- Zone color and border colors are all individually controlled
for each of the 12 zones.
- Allows a zone to be created at "0" or with negative values
- Allows the entry of text for each zone. Position of text is
configurable within the indicator.
Per requests....added configurable text labels for each zone, and allow entry of negative zone values.
Please reach out to the original developer for any support related questions and feature requests.
| | |
| --- | --- |
| Created By | NinjaTrader_Jim |
| NinjaTrader Version | 8 |
| File Size | 5.5 KB |
| Create Date | 04/24/2018 |
| # of Downloads | 457 |
Importing to NinjaTrader 8 is Easy!
To import your 3rd party app or add-on to NinjaTrader, simply follow these 3 steps:
Download the app or add-on file to your desktop
From the NinjaTrader Control Center window, select the menu Tools > Import > NinjaScript Add-On…
Select the downloaded file from your desktop