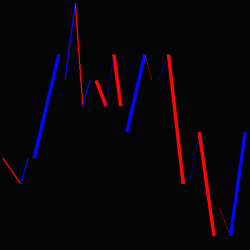 The Bolt Bar indicator will plot from open to the low or high depending on which is hit first and then to the low or high depending on which is hit last and finally it will plot to the close. This in effect produces a "zig zag" or "lightning bolt" styled line.
While the indicator is purely cosmetic and not intended to indicate any specific technical analysis technique; the idea came from wanting to visually see whether the high or low was hit first.
You can change the color and width of the lines depending on whether they travel up or down to the next price point. The larger movement from price to price (up or down) can be given a larger width to emphasize the movement.
This is an indicator instead of a ChartStyle as I wanted to track the movements intra-bar tick by tick and decided to use Tick Replay to do so.
| | |
| --- | --- |
| Created By | NinjaTrader_PatrickH |
| NinjaTrader Version | 8 |
| File Size | 3.0 KB |
| Create Date | 07/01/2019 |
| # of Downloads | 75 |
Importing to NinjaTrader 8 is Easy!
To import your 3rd party app or add-on to NinjaTrader, simply follow these 3 steps:
Download the app or add-on file to your desktop
From the NinjaTrader Control Center window, select the menu Tools > Import > NinjaScript Add-On…
Select the downloaded file from your desktop